Designing branding for a podcast on the transcending potentials of sound.

Client: A KIND OF HARMONY
Challenge: Craft a unique visual identity that communicates the novel approach and unique proposition of a podcast on the healing and political aspects of sound.
---
Branding for a podcast exploring the transcending potentials of sound.
A Kind of Harmony is a podcast transcending the physical limitations of daily life. In each episode, hosts Julia E. Dyck and Amanda Harvey speak with a different practitioner who uses sound as a tool or method for connection, transcendence, and healing. [1]

Speaking from a variety of marginal perspectives, a number of episodes touch on the intersection of sound and queerness, sexuality, race and gender, and explore the ways sound can be used to resist current injustices and forces of oppression. Not only do the episodes include in-depth conversation, but also a unique and never before heard sound piece created by participants—featuring Beverly Glenn Copeland, James Goddard, Olivia Dreisinger, Sarah Feldman, and Nick Dourado among others.


Co-designing a visual identity.
Mutual Design was tasked to craft the visual identity of a Kind of Harmony that would be used throughout web streaming platforms and social media. Specifically, our agency was tasked to design a logo, colourway, typography, visual identity guidelines, as well as several digital assets for promotion.

☝🏼For this project, our codesign process was straightforward and consisted of using a creative questionnaire and a series of ideation and feedback sessions with the client, throughout the project's stages, to help us progress creatively together.Soft, modern, agey, minimal, clean, abstract, and 70s-inspired: the central keywords and vibes/moods that guided the creative direction. Through the design process, we were able to accomplish the desired atmospheric feel by using colours and geometric shapes and a grainy look, complimented by the use of both serif and sans-serif fonts.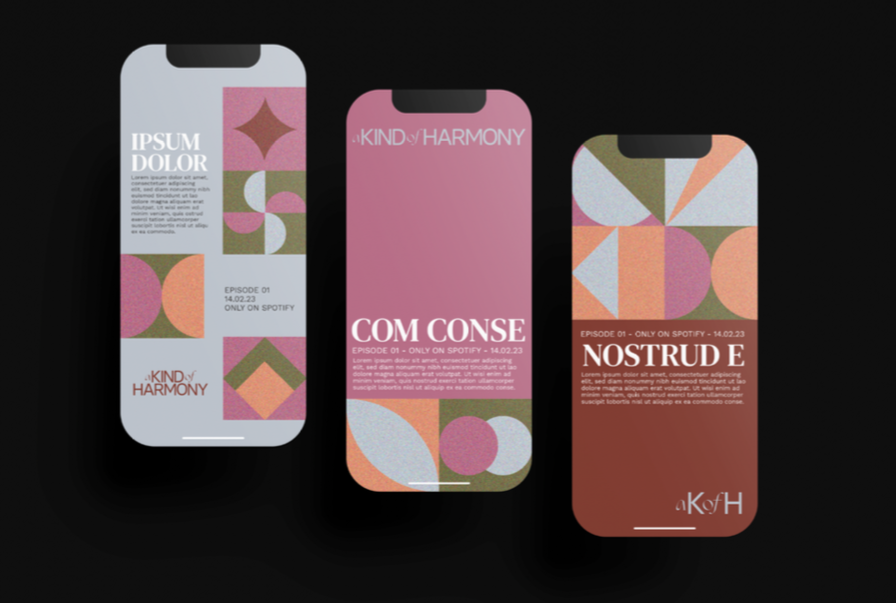 We are proud to have supported this project, and are excited for the impact this podcast will have in the general understanding and conversations around the potentials of sound and community.

Learn more about a Kind of Harmony on their website, follow their instagram, and stream the episodes in all major platforms.




References
[1] A Kind of Harmony is a project by Julia E. Dyck and Amanda Harvey (Future Perfect). Since 2016, they've been working collaboratively on projects including radio productions, sonic experimentation, performances, audio documentaries, installations, and events. Their work has been presented internationally and has been featured in Canadian Art and Music Works Magazine, among others.


Recommended readings
[2] Kanngieser, Anja. "Geopolitics and the Anthropocene: Five propositions for sound." GeoHumanities 1.1 (2015): 80-85.
[3] LaBelle, Brandon. Sonic agency: Sound and emergent forms of resistance. MIT Press, 2020.
[4] Spinelli, Martin. "Electric Line: The Poetics of Digital Audio Editing." New Media Poetics: Contexts, Technotexts, and Theories (2006): 99-121.